This author, Brian A. Fowler I came about from a personal blog/website. You'll see me post some of his poetry as he poet as well as a novelist. This book drew me in. Worth a read as you might find a bit of your own life in it.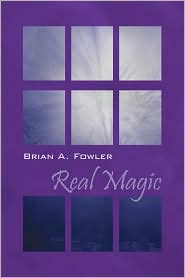 Synopsis: "Real Magic"
Her brilliant amethyst colored eyes drew him in.

He had always believed that the expression, seeing stars, was merely a metaphor, but lying here on his back on the cold, wet concrete brought a unique perspective to those words. "Of all the times for this to happen! What else on earth could possibly go wrong?" he growled under his breath.

"Why don't you watch where you're going," shrilled a high-pitched voice. "It's not like you could actually miss me!"

"My apologies, young lady," he said with a grimace as he eased himself carefully upright. "I'll make sure that I'm on the lookout next time for you..." His voice trailed off uncertainly as, from the vantage point of the sidewalk, he stared up at the most unlikely looking woman he'd ever had the pleasure of meeting.

"What are you staring at? Never seen a pair of tits before?" she muttered all the while rocking frantically back and forth on her toes.

Thus begins a love story between a man and a woman. Nothing exciting here... except for the exes, family troubles, some violence, lots of sex and don't forget, magic.